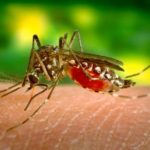 Lately trying to enjoy a little outdoor fun can be tricky business between dodging rain drops and mosquitoes.  While homeowners have found the rain very beneficial for their lawns, that same rain has made the yard an uncomfortable place to be, even after the sun comes out. 
Because mosquitoes can breed in the smallest amounts of standing water, the recent rains have insured there are no shortages of ideal breeding sites.  In addition, since mosquitoes rest in shady areas, the rain has provided plenty of resting sites by promoting vegetation growth.    
To improve your chances of enjoying the great outdoors, search out and eliminate ANY standing water on your property.  Minimizing available shade will also increase your chances against this pest by decreasing resting sites. 
If after addressing both of these issues, you are still experiencing high mosquito populations, it may be time to call in a professional.  Mr. Bugg's offers a mosquito reduction program including monthly larvacide treatments of standing water and treatments of shady areas as well as mosquito habitat modification consulting. 
Please contact us today for a FREE evaluation and let us help you win the battle to Take Back Your Yard!