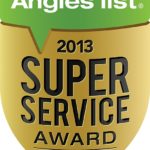 The turning of the year provides a great opportunity for "turning over a new leaf" or making a recommitment.  At Mr. Bugg's Pest Patrol we are determined to use this opportunity to rededicate ourselves to providing premier customer service to all our wonderful clients.
While we are obviously on the right track, having won the prestigious Angie's List Super Service Award for the second year, the Mr. Bugg's Pest Patrol staff is determined to once again raise the bar and lead the pest control industry in customer satisfaction.
 Toward that end we request your invaluable assistance in rating our performance and providing suggestions on ways to improve.  Please follow the link below to complete a short survey and receive a one time credit of $2.00 on your account. 
                                              http://www.mrbuggs.com/customer-survey
 Our Mr. Bugg's Pest Patrol staff would like to thank our clients for their business in 2013 and wish everyone a
                                                        Happy New Year!