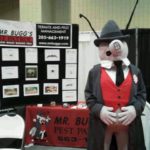 Plans are in the final stretch for the 2013 Building and Remodeling Expo scheduled for April 5 – 7, 2013 at the Pelham Civic Complex.   The Greater Birmingham Association of Home Builders Building & Remodeling Expo provides an opportunity to see the latest in design trends and to meet the building and remodeling professionals who can make your dream home a reality.
You'll have the chance to touch and feel the newest appliances, flooring, windows, doors and much more, ALL UNDER ONE ROOF!
As an exhibitor Mr. Bugg's Pest Patrol has 20 tickets to give our customers for free admittance.  We anticipate the tickets will go fast so contact our office today to reserve yours (limit two per customer please). 
Due to his popularity at previous shows "Charlie" will be in attendance to entertain those young and young at heart. 
We hope everyone will stop by to say "hi", check out our insect collection, pick up one of our give-a-ways and register for our door prizes.