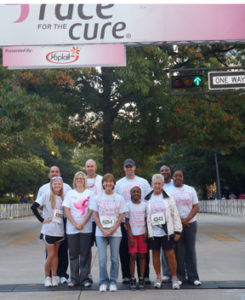 Although we felt a bit like a drop of water in a vast ocean at last Saturday's Susan G. Komen Race For The Cure, we could not have picked a better body of water to be a part of.
A crowd of sixteen thousand people flooded the streets of downtown Birmingham creating a river of pink with one common goal ….. curing breast cancer!
All of us at Mr. Bugg's Pest Patrol, Inc. would like to thank our fellow racers, the spectators who cheered everyone on and our customers who contributed to this worthy cause.
We look forward to the day this event is no longer needed but until that time, we will continue to do our part.
Thanks again for the support of all our customers!