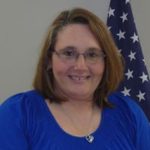 When your call is answered at our office, chances are excellent the voice you will hear is Tanya Harwell's. Though new to pest control, Tanya's 30+ years in other customer service positions make her an ideal addition to our Mr. Bugg's family.
A loving and dedicated Mom and Wife, Tanya brings that same caring nature to work. In every encounter, throughout each day, Tanya is determined to ensure our clients know how cherished they are.
In recognition of her outstanding contributions, we are pleased to announce Tanya Harwell as the Employee Of The Month January 2016.